On this page:
Ceramics and Sculpture
The sculpture area includes a separate area for welding as well as a discrete woodshop (for safety and sound reasons). The ceramics area contains fifteen wheels for throwing in a spacious work area; we have a pugmill along with three electric and two gas-fired kilns.
Drawing, Painting, and Printmaking
The Art Department has a dedicated studio for each of these mediums. These studios are classrooms as well as work space for student projects.
Photography
In photography, we have a classroom that functions as a studio, a critique space, and our film developing area. The adjacent darkroom has eight enlargers: most for 35mm film, but one is set up for medium format and one for large format (4″ x 5″) negatives. We don't plan on getting rid of this darkroom in the foreseeable future as some schools have done.
Our digital lab in the fine arts building has fifteen Macintosh computers (I-Macs) with the latest Adobe software (Creative Cloud). There is additional digital equipment (computers, scanners, and printers–including an Epson 44″ wide printer) in our Center for New Media Design in the Upjohn Library across the street.
Gallery
Kalamazoo College has a large Gallery space with approximately 20×20 square feet of space where Senior students showcase Senior Individualized Projects. Throughout the year, we invite alumni artists and local artists to showcase work in this Gallery as well.
Additionally, we offer a lighted display case for photography students and a gallery wall space on the second floor balcony of the Light Fine Arts Building.
Kalamazoo Community Studio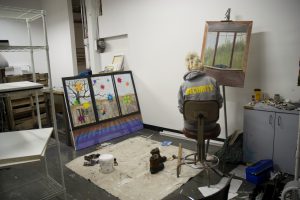 For Senior Individualized Projects, students have the opportunity to work out of the Kalamazoo College Community Studio, located in downtown Kalamazoo in the Park Trades Center. It is a versatile work and exhibition (during monthly Art Hops) space where students can work independently as artists within the Kalamazoo community. The Community Studio is also home to the Partners in Art civic engagement program. SIP students may also have access to the on campus facilities depending on their area of study and requirements.